Is it 100% possible to rule out dislocation with an AP shoulder? Most Radiologists would tell you that it rarely requires anything more than an AP view, but occasionally, you will need to get an additional "Y" view shoulder. It is possible to have a dislocation either anteriorly (more common) or posteriorly and have very little difference of appearance than a normal AP radiograph if one view is taken.
This is another way to obtain a "Y" view shoulder with the patient lying supine: Make sure the patient is perfectly flat with no rotation to either side. Place a 10 x 12 cassette crosswise under the patient's back. The center of the cassette should be directly over the midsagittal plane. I like to place the top of the cassette about 1 inch above the palpable acromion process (don't worry - the tube angulation will project the scapula over the film).
Angle your central ray 45 degrees to enter the patient's affected side at the surgical neck of the humerus and make sure to collimate. Just as in the trauma oblique c-spine technique (if using a grid), make sure that the cassette orientation is crosswise to avoid grid cutoff. Place the patient's affected hand on top of the abdomen if possible. If you are reluctant to collimate, just remember that the proximal humerus should superimpose the scapula... this is probably easier to line up than the standing PA oblique method - cone in to the humerus. This should be done on suspended respiration, and as a general rule of thumb, three times the mAs from the AP projection should be employed.
The following x-rays (courtesy of Learning Radiology) show a posterior dislocation... difficult to diagnose from AP view, but fairly easy to identify on the "Y" view.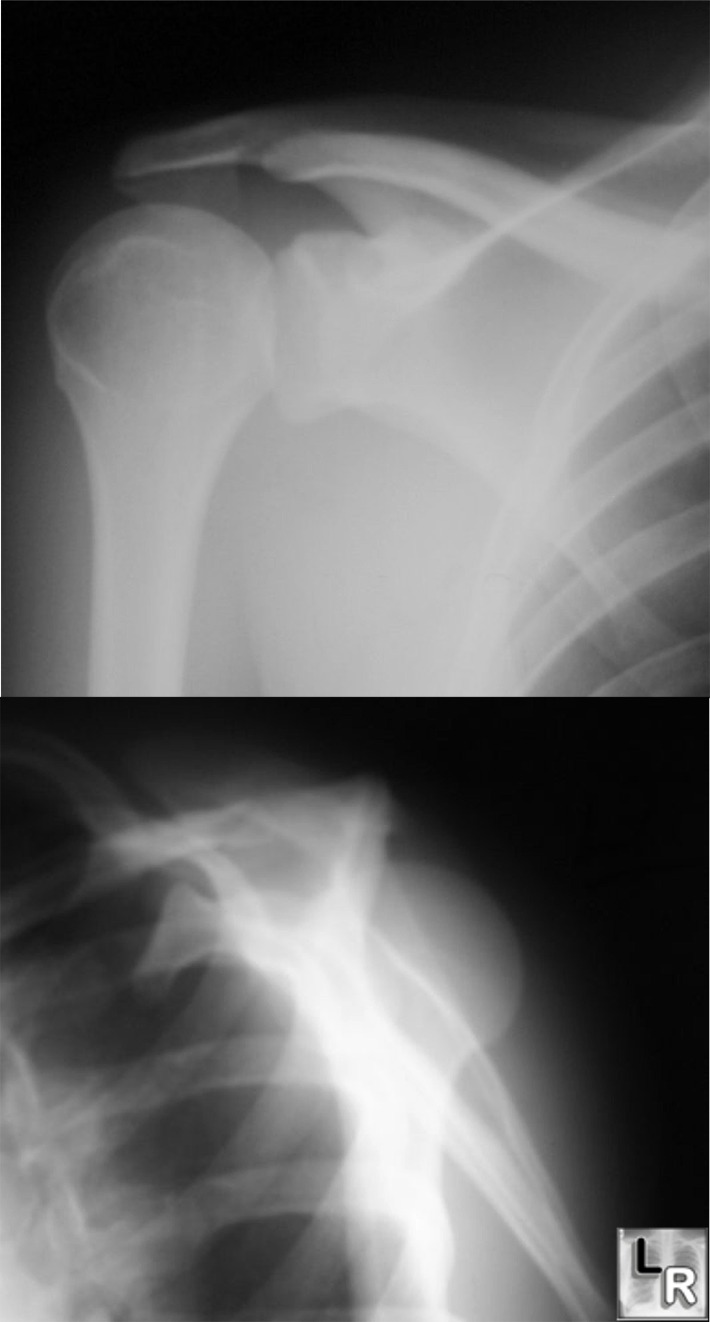 After you have performed this view, you'll notice quite a bit of elongation. Every once in a while, I will get a request for a repeat without elongation from either the ER physician or the radiologist. If you can get cervical collar clearance, you can still do an AP projection for this view while supine. I find that if you place a 45 degree sponge behind the patient's shoulders (as you might do with an oblique L-spine view), the Y shows up wonderfully as long as the patient's humerus remains parallel to the body.